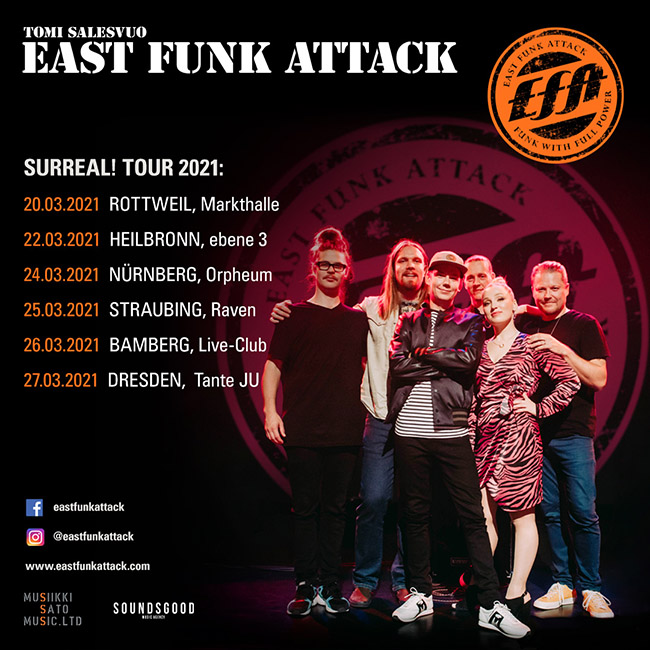 SURREAL! TOUR 2020:
21 Mar. ROTTWEIL, Markthalle Tickets>
22 Mar. NURNBERG, Orpheum Tickets>
23 Mar. HEILBRONN, ebene 3 Tickets>
24 Mar. FREIBURG, Macromedia Hochschule (Artist-Talk)
25 Mar. FRIEDRICHSHAFEN, Kulturhaus Caserne Tickets>
26 Mar. STRAUBING, Raven Tickets>
27 Mar. BAMBERG, Live-Club Tickets>
28 Mar. DRESDEN, Tante JU Tickets>
19 May PORI, Palmgren konservatorio
20 May HELSINKI, G Livelab Tickets
22 May IMATRA, Osmos Cosmos Tickets
Tomi Salesvuo East Funk Attack
Taru Ratilainen, Vocals
Ukko Heinonen, Saxophone and Flute
Ilmari Aitoaho, Rhodes and Keys
Matias Kiiveri, Guitar and Backing Vocals
Heikki Laine, Bass
Tomi Salesvuo, Drums and Backing Vocals
The Tomi Salesvuo East Funk Attack – Surreal! Tour 2020
Helsinki based funk band East Funk Attack was founded in 2013. The band, often called "thickly dynamic invasion of funk", has released two studio albums and one studio live EP. The powerhouse of a group is now releasing new music and music videos from the upcoming third studio album. First two singles "I Feel Surreal" and "Why Don´t You Do It?" saw the daylight in 2019 and more new music is coming out in 2020 while the band is touring again in Germany and Finland. The East Funk Attack band is a sextet led by a drummer and composer Tomi Salesvuo and features the charming singer Taru Ratilainen. Salesvuo leads an amazing line-up of Finnish musicians, brought in from the front line of making sure the funk keeps on thumping!
"Funk Attack! Not too bad idea for the first solo album. - The result is pure Funk package!" - Pertti Laesmaa, Voima
"Wild Funk-plate" - Juha Seitz, Ilkka/Pohjalainen
"Salesvuo has done superb songs which some of them have clear hit potential. They are full of funky rhythm which strenght is guaranteed by Maestro Salesvuo himself."
- Timo Vähäsilta, Jazzrytmit Web Magazine
"EFA is fireworks of brilliant Funk-rythms! Funk is not dead!"

- Mikko Kaakkuriniemi, Viidakkorumpu
---
---